MOULDED RUBBER PRODUCTS MANUFACTURERS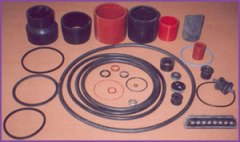 Standard Rubber Works is leading moulded rubber products manufacturers known for its quality and service. We manufacture all types of rubber products specially IMPERIAL AND METRIC SIZE O Rings O rings are used in almost all industries and in many applications. In the following is an overview of the most important applications:

• Static cover seals, sealing axially
• Static piston or rod seals, sealing radially
• Dynamic sealing with translational movement (hydraulic or pneumatic)
• Dynamic seal, rotational movement
• Valve seals
• Flange seals
Molded from FKM/ VITON RUBBER – copolymer /terpolymer / GLT Rubber – HNBR –FLUORSILICONE – SILICONE – EPR / EPDM– CHLOROPRENE–BUNA N.
We have a Large O RING Mould Inventory catering to large and small requirements saving on Mold tooling time and development costs. GASKETS for Flanges – QUAD RINGS and all types of BUSHES – HYDRAULIC / PNEUMATIC SEALS – SEALING RINGS – WASHERS etc as per custom drawing and specification.
We are known as high class rubber products manufacturers for industrial goods and take pride to inform that the products supplied by us have been working to the total satisfaction of our clients. We are OEM supplier to India`s leading DIESEL ENGINES , PUMPS AND VALVES Manufacturing Company.

RUBBER GASKETS FOR FLANGE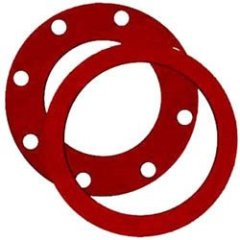 We offer flange rubber gaskets ring type and Full Face Molded From BUNA N , EPDM and VITON Rubber used in piping for petroleum and chemical plants.
This is manufactured keeping in mind strict quality features to ensure long life of the product.
RUBBER VITON O RINGS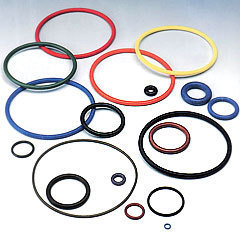 O – RINGS : We also offer Viton O rings from our O ring Mould Inventory in AS and Metric sizes. For Industrial and Pharmaceutical Machine Application.
VITON O RINGS - FLUORO / FKM [VITON] RUBBER - COPOLYMER, TERPOLYMER AND SPECIAL LOW TEMPERATURE –SOLVENT RESISTANT GRADES. IN BLACK , BROWN, GREEN COLOR IN SHORE HARDNESS: 60-90A : suitable where high heat resistance upto 250 degrees is required along with Low compression set properties and chemical , solvent and oil resistant application.
O RINGS - FLUORO SILICONE AND GENERAL PURPOSE SILICONE FOR LOW TEMPERATURE AND HIGH HEAT RESISTANT .
O RINGS - HNBR rubber for Low Temperature and high temperature resistance upto 170 degrees centigrade suitable in chemical and solvent resistant application in low temperature replacing fkm.
O RINGS - CHLOROPRENE [neoprene] in shore hardness 40-90A
O RINGS - BUNA N – NITRILE - IN HIGH , MEDIUM , LOW NITRILE as per suitable application in low temperature and high temperature applications in hardness 40-90 shore A
O RINGS - EPDM / EPR IN shore hardness 40-90A
O RINGS – Pumps , Valves, Gas Regulators, Automotive Engines, Aerospace Applications..
We have wide range of O ring Mold Inventory in AS568 / METRIC specification suitable for small and large requirements without incurring heavy mould cost.
O RINGS – Hydraulic Piston / Cylinder for Static and Dynamic Applications, Pneumatic Valves etc...
DIESEL ENGINE RUBBER SPARES
For AV/TV/WP/ HA/RBV/RV/WV/DI/SL90/PS ENGINES.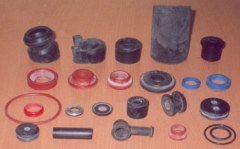 Cylinder Liner O rings, Fuel Pump Hsg O rings, Sealing Rings for Push Rod and Water Ferrule, Damping Bushes, Alternator Flexible Coupling, A.V. Mountings, Bush For Cylinder Head Studs, Joint for O.S.Hsg, Sleeves For Inlet/Exaust Manifold, Coupling for Flywheel, RB22, RB44,
ESBI replacement,O rings for Dipstick, O rings for Lub oil pumps, O ring for Valve Tappet Guide., Sealing Rings, Sealing Rings for Bowl, etc.
RUBBER SEALS FOR PNEUMATIC AND HYDRAULIC APPLICATIONS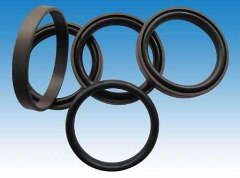 Rubber seals molded from HNBR – VITON – BUNA N for Hydraulic and Pneumatic application as per specification.
RUBBER COMPOUND
As rubber products manufacturers ourselves, we offer tailor made unvulcanized rubber compound for molding application FKM [Viton] Rubber Compound in thickness ranging from 1mm onwards.
BLACK, GREEN, BROWN COLOR
Duro Hardness: 60 Shore A upto 90 Shore A as per specification
FLUOROSILICONE AND SILICONE rubber compound in Thickness 2mm onwards BLACK AND COLOR. In Shore Hardness 40-50-60-70-80 A.
HNBR rubber compound in Hardness 40-90 shore A.BLACK AND COLOR
NEOPRENE, EPDM, NITRILE rubber compound in shore 40-90A.BLACK AND COLOR.